Costume dramas are the result of cultural innovation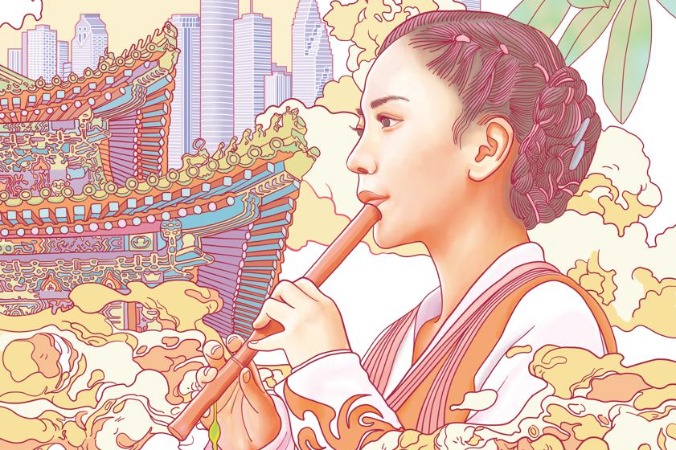 Costume dramas have become a major part of prime time in recent years and have become a major pop culture phenomenon, thanks to the rapid development of China's digital cultural industry.
China's booming online cultural industry has spawned tens of thousands of "web novelists" and tens of millions of readers. Accordingly, dramas based on the works of top-notch novelists, mainly on wuxia (martial arts heroes), xianxia (immortal heroes) and xuanhuan (fantasies featuring adventures and wars), and featuring actors leading companies can attract huge investments and become extremely popular.
Moreover, the large number of TV channels and online video apps provide a powerful platform for these dramas.
A costume drama can stand out because of its superb costume and prop design. But while there is no need to tell the story, the creators of these period or costume dramas must pay close attention to detail and accuracy, so that the audience can be drawn in by the charms of the architecture, furniture, crockery and gardens reproduced.
As for feedback, TV series producers can get it through various platforms which can help them make improvements and deletions, if needed, and/or create better series in the future.
Compared to historical dramas, costume dramas are usually visually pleasing because they focus more on romance and relationships in a beautiful setting.
In a sense, costume dramas are centered around female characters. For example, hit dramas with strong female characters such as The Legend of Zhen Huan and The Legend of Mi Yue attracted an extremely high percentage of female viewers because they reflected the struggle and growth of women in ancient China.
While most costume dramas center or revolve around women, other TV dramas promote the charms of traditional Chinese culture by taking creative liberties with historical events. These shows strive to recreate the past by ensuring that the storyline, character clothing, food, and sets are true to the time period depicted.
A good example of this is one of the most trending TV shows, A Dream of Splendor. Its exquisite scenes showing life during the Song Dynasty (960-1279) have attracted audiences and received many reviews. The TV series opened a new chapter for costume dramas, thanks to its historical accuracy and aesthetic detail.
Chinese costume dramas are more likely to convey the traditional Chinese philosophical concept that "heaven and man are one entity" through ancient art forms and way of life. Although ancient and modern China are totally different, the ancient civilizational and philosophical aspects still have an impact on today's society. Therefore, the aesthetics and philosophy highlighted in Chinese costume dramas, which are different from Western TV dramas, can highlight China's unique beauty and national identity.
Chinese costume dramas are popular not only with domestic audiences, but also overseas viewers, many of whom play an important role in promoting Chinese cultural export. For example, Google data shows that The Story of Yanxi Palace, viewed more than 18 billion times at home, was the most watched and searched TV show in 2018. In fact, the drama was exported to more than 90 countries.
The popularity of Chinese costume dramas in other countries reflects their high-quality production and the charms of the traditional Chinese way of life. These costume dramas not only convey traditional aesthetic and spiritual values, but also reflect the Chinese people's confidence in their traditional culture.
The proliferation of costume dramas sends a strong message that traditional culture is the foundation of Chinese creativity, and dramas are the result of cultural transformation and innovation.
The author is a researcher at the Chinese National Center for Cultural Studies of the Chinese Academy of Social Sciences.
Opinions do not necessarily represent those of China Daily.
If you have specific expertise or want to share your opinion on our stories, send us your writings to [email protected] and [email protected]