Free Art Exhibits in New Westminster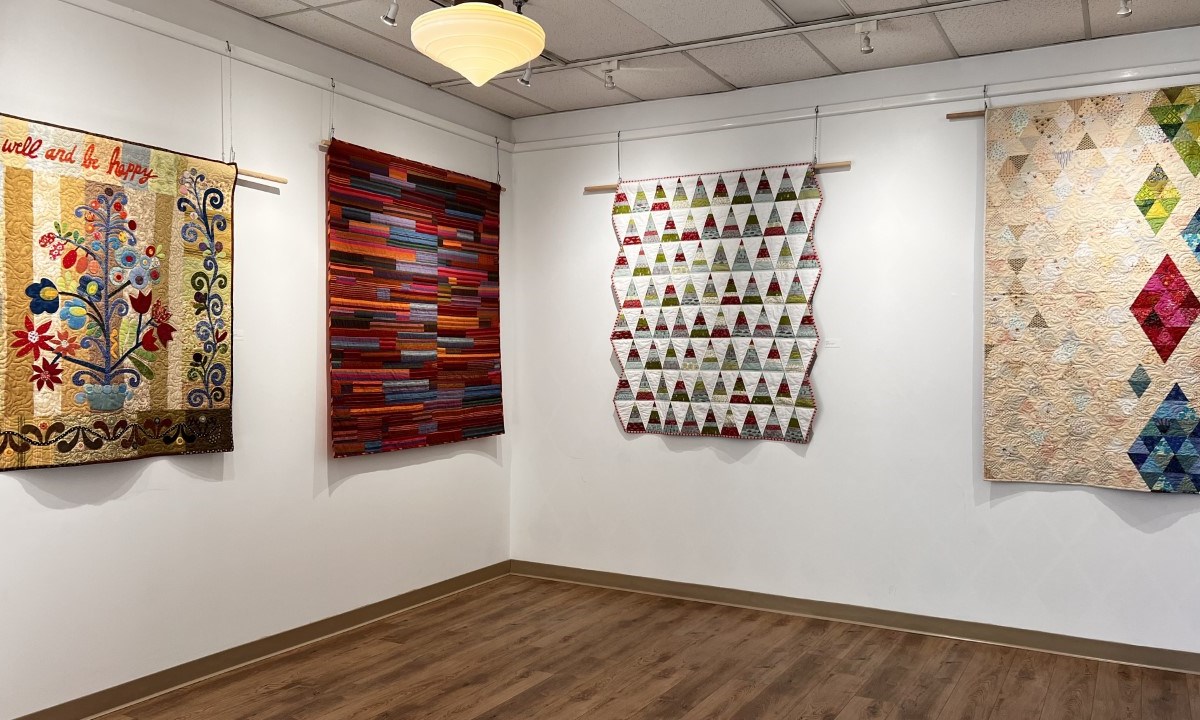 Meet Evelyn Gingrich, who has donated over 50 quilts to friends, family and those in need over the past few years. The few she kept for herself are now on display at her first solo exhibition in New Westminster.
Evelyn Gingrich has made some 70 quilts over the past four decades. But none of them were for sale.
While two of her quilts made money at an auction, Gingrich clarified, "That's never the point. This is never my intention in making them. I do them because it's something that gives me joy.
Some quilts take months to make, but despite the toil, Gingrich never awards them a prize. Instead, "they were either donated to charity or to friends and family," the New West-based artist said.
Give handmade quilts to those in need
Gingrich's quilts have reached several women's shelters, new immigrants and accident victims, among others, through local church organizations and the Burnaby-based nonprofit Pacific Spirit Quilters' Guild.
There are only a handful of her quilts that she has kept for herself – 14 of them (including one made 12 years ago) are currently on display as part of the Comforting Colors exhibition at the Plaskett Gallery at the Massey Theatre.
Sometimes, she admits, it's hard to let go of pigtails that have taken hours of effort and attention. "It happened fairly recently – I was doing one that had so many errors in the pattern that it was an experience I had never had before."
By the time Gingrich was done with her, she found herself deeply attached to her. But as she had already entrusted the piece to a friend, she had to drop it.
There were also times when Gingrich dropped a few quilts halfway through. "There are some who have just gone to the bottom of the closet; there are still some in the back of the closet.
These quilts can be picked up again and worked on at some point. But Gingrich is in no hurry.
"I'm a quilter in process, I do it because I love the process. I'm not a production quilter, I don't quilt to produce things," she said.
"I never got into the business side of things. Some people encouraged me to create a website, but I didn't because I was afraid it would take away the fun of doing it. [making quilts]."
Make quilts that mix modern and traditional patterns
Gingrich learned the art from his grandmother when he was eight years old.
Her mother and grandmother were quilters. They came from a farming community and made quilts from scraps for "strictly practical reasons".
"But still, the art was there," she said.
"They would turn in their graves if they saw me buying expensive fabrics (Gingrich uses 100% cotton fabrics) and cutting them – not something they ever imagined doing."
She learned traditional block patterns from her grandmother; but over the years Gingrich has developed his own style – a mix of modern ("more geometric with bold, clean lines, larger pieces and often in solid colors") and traditional ("smaller prints, often composed of a whole series of blocks that together form a pattern.")
After four years of quilting sessions with her grandmother, she joined a quilting class when she was 12 years old. "And that was the start for me to do it for my own reasons."
Quilting as therapy
Forty years have passed since then, but Gingrich has never stopped quilting — even through his work in library management and children's literacy, or his travels to different countries.
In the past, her husband's job had them living in different cities (sometimes for a few years at a time) – Santiago, Chile; Lima, Peru; outside of San Francisco in the United States and eastern Canada.
"Going to a new country with a new language; not knowing anyone in the new place, feeling a bit lost and trying to settle down…through it all, quilting was a very comforting thing for me," she recalls.
"It was something familiar, something productive that I could do; and something that gave me great joy and satisfaction. … That's where it really became therapy for me.
And continues to be.
Gingrich's quilts are on display at the Plaskett Gallery at the Massey Theater, 735 Eighth Ave., through August 31. The gallery is open Tuesday through Friday, 1 p.m. to 4 p.m. Those interested in learning more about the quilts can contact Gingrich at [email protected], or check out the gallery's website.