INTERVIEW: Noor Theater celebrates artists from the Middle East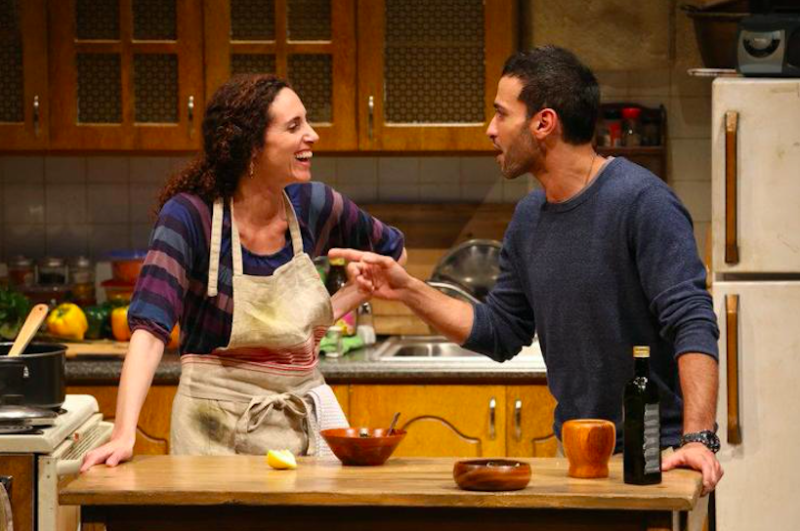 Photo: Noor Theater and New York Theater Workshop's production of Food and Fadwa, written by Lameece Isaaq and Jacob Kader, originally aired in 2012. Photo courtesy of Noor Theatre/Provided by website official.
---
The New York Theater Workshop has recently added several theater companies to its company-in-residence initiative, and perhaps the model for these future collaborations is Noor Theatre, an acclaimed theater company that celebrates artists of Middle Eastern descent. Noor and NYTW have worked together for over a decade, and during that time there have been many accomplishments and activist causes along the way.
Lameece Issaq is the founding artistic director of Noor Theatre, which, according to its official website, supports world premiere productions, commissions, partnerships, a reading forum and a 48-hour play festival. In other words, they stay busy creating art. One of their recent highlights has been the off-Broadway production of First try, written by SEVAN and directed by Johanna McKeon. The play centers on an NFL player as he grapples with the decision to come out as an Arab-Muslim during the Super Bowl, according to press notes.
Isaaq has been at the heart of this artistic creation for a dozen years. She is an actor, screenwriter and producer, and she has worked with the Public Theater, in addition to other companies. She helped Noor get an Obie award and she's the author of the acclaimed play Food and Fadwa, written with Jacob Kader. This piece is a fine example of the collaboration between Noor and NYTW; the two companies co-produced the show during the 2011–2012 season, with Shana Gold directing.
Before Noor, there was the Nibras Theater Collective, a company focused on producing works by Arab-American artists. Isaaq was friends with many people in Nibras, and she and Kader actually wrote the first act of Food and Fadwa for a Nibras event that provided opportunities for playwrights writing plays about Palestine. This opportunity was also associated with NYTW.
"And that's how I got connected to the studio, so Linda Chapman, who was the associate art director at the time, saw the reading," Isaaq said in a recent phone interview. "And she was excited about the piece, so Jake and I started developing the piece more. And we offered this piece to be in one of their summer homes.
Eventually, Nibras disbanded, with artists heading in different directions, Isaaq said. She spent the next few years developing Food and Fadwa at NYTW, and there was a conversation about starting a new theater company that might launch with Isaaq and Kader's play.
"It would be nice to have a theater company that works on Arabic voices," recalls Isaaq as a pitch. "I thought, well, why not expand that a bit to be the Middle East, so it's not just Arab countries. It's Iran, and maybe we go as far in Europe as Turkey, and we look at the Armenians. We had a huge community of artists, so that's where it all came together. We were developing the piece. We created the theater company. I started it with two other female co-founders, Nancy Vitale and Maha Chehlaoui. Maha was also one of the founders of Nibras, so that's kind of how it happened.
During the Food and Fadwa process, Noor Theater went official, gaining coveted 501c3 nonprofit status and the ability to apply for grants. This was a significant achievement for Isaaq and the company.
"When you are a BIPOC company and especially artists from the Middle East, it is natural that you also play the role of activist, as so many artists are," said Isaaq. "When we started with Noor, we wanted to create a home for those people who write and direct or who now want to write, direct and act. Yes, they did different things and were produced in different theaters and went to TV and movies, but we really saw a need.
Noor has helped artists with commissions, festivals, and readings, and their work has been featured in New York, Minnesota, and Michigan. In addition to being theater producers, they are also promoters of opportunities for Middle Eastern artists in the theater landscape.
"I think the other part of it is that when we see something wrong in the theater community, or we see that we're out of shape, or the opportunity isn't there for us, Noor s 'came forward and wrote letters and had open forums with the theater community," the artistic director said. "There was a play going on at Playwrights Horizons that we disagreed with because it was a a play about two Muslim families written by a white playwright and directed by a white director, and a lot of our friends were in it who are from the Middle East. . But we started asking ourselves this question: if there are Middle Eastern people on stage or BIPOC people on stage, who are the main artists? And can we put the voices of the Middle East in a position of strength? So we ended up writing this letter to the theater community, and I think it paved the way for further investigation into this, and gave our writers, actors, and directors more opportunities.
Isaaq said there will be more productions and more activism as the Noor Theater continues alongside NYTW and the other resident companies. She thinks the conversations will not only come from Noor, but also from other BIPOC artists.
"So there's always more work to do," she said. "I'm very proud not only of the company's artistic accomplishments, but also of the activism we've been involved in with the community."
By John Soltes / Editor / [email protected]
Noor Theatre, featuring founding artistic director Lameece Isaaq, is a longtime company-in-residence with the New York Theater Workshop. Click here for more information.