Laurel High Wins WPIAL Incentive Crown | Sports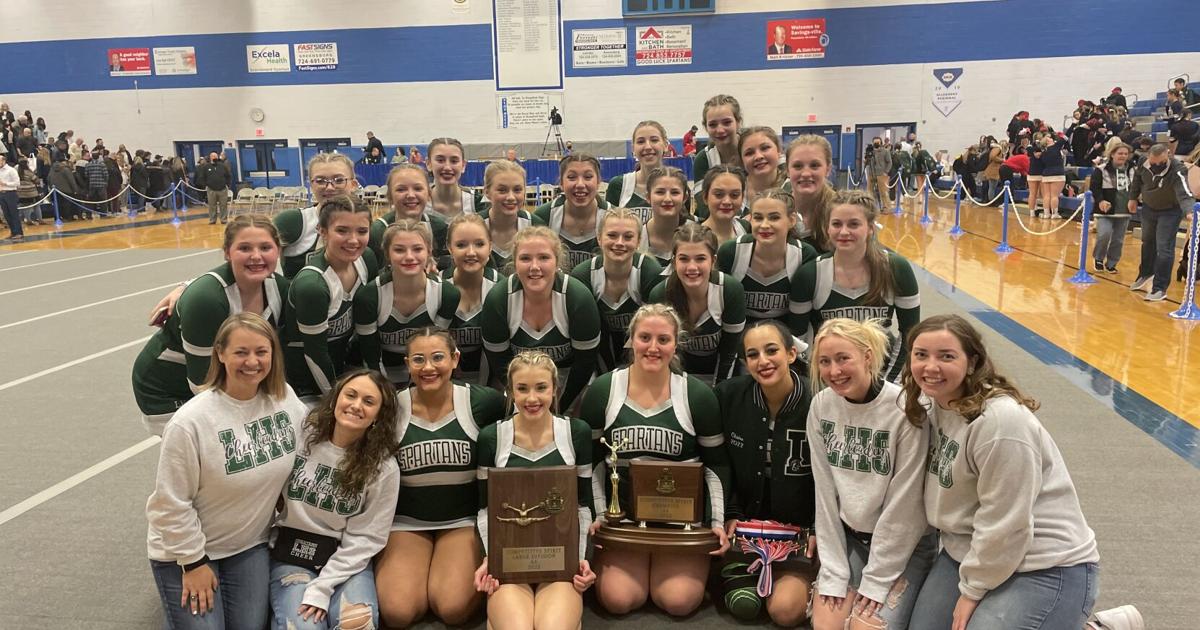 GREENSBURG – The Laurel High cheerleader team won another championship on Saturday.
The Lady Spartans have won their second WPIAL Competitive Spirit team crown in the past three years, leading the field at the event held at Hempfield High School.
Last year, the Lady Spartans were hit with nine points deduction and missed a trip to the PIAA Championship by that narrow margin.
"It was really exciting to bring the championship back to Laurel, especially after last year," said Lady Spartans coach Jenn Horodyski. "Last year was a bit disappointing. We call it redemption.
"It was really nice to have this moment on the mat where we were all together. It was magical as it happened.
Laurel won the WPIAL Class 2A Competitive Spirit team title, easily overtaking second-placed Hopewell, 83.5 to 71.6. The 83.5 points scored is the highest total for Laurel in school history, with their zero deduction routine.
"We had a little leeway," said Horodyski. "Our mantra was that everything be clean and well executed. Many points are for execution.
"We made our stunts a little easier, but we made them clean and crisp so they absolutely hit. I'm really proud that we had a zeroing routine. We went out and had a flawless routine.
Horodyski was pleasantly surprised by Saturday's result.
"I thought it would be a lot closer than before," said Horodyski. "We watch movies and do research like any football or basketball team.
"I knew it would be tough competition. I wouldn't imagine we would be 12 points ahead of the Double A squad. I really think that was our execution of our skills. We did almost everything perfectly.
Laurel didn't affect last year's frustration over this year's performances.
"Last year we had a ton of confidence. said Horodyski. "Our stunts were really tough. We were ready and confident.
"But, when we hit the mat, we had nine points of deduction. It was my hardest moment ever having to talk to my team after that. It has been a huge motivator for us this year. I told them we didn't want a repeat of last year. It was really important to us. If we had touched last year, we would at least qualify for the state.
The top four 2A teams qualified for the PIAA Championship in Hershey on January 28 and January 29. The event will be held at the GIANT Center. Laurel was first, Hopewell second, Ringgold (71.25) third and Neshannock (71) fourth).
"We're really excited for the States," Horodyski said. "I think we're going to do very well.
"I am delighted to go there with Neshannock and compete. In total there were 25 teams competing on Saturday and we placed fourth overall and first in double-A. It's amazing.
The team members are: Makenzie Landolfi, Claire Daughtery, Alayah Kingsley, Moriah McBride, Kyra Geiger, Kaelynn Kennedy, Amber Medved, Seneca Bailey, Madison Michaels, Maggie McKnight, Lilly McKay, Ainsley Stewart, Kamryn McVay, Emma Altman, Makenzie Maine, Madison Burgess, Kayla Carlson, Natalie Viggiano, Brooklyn Kennedy, Chloe Buchowski, Marlee Guthrie, Kali Hamilla and Emmy Tinstman.
Horodyski is the team's head coach, while Sydney Brush, Alyssa Hunt, Christine Jones and Brittany Powell are assistant coaches.