Minions fans invade their local cinemas dressed as Gru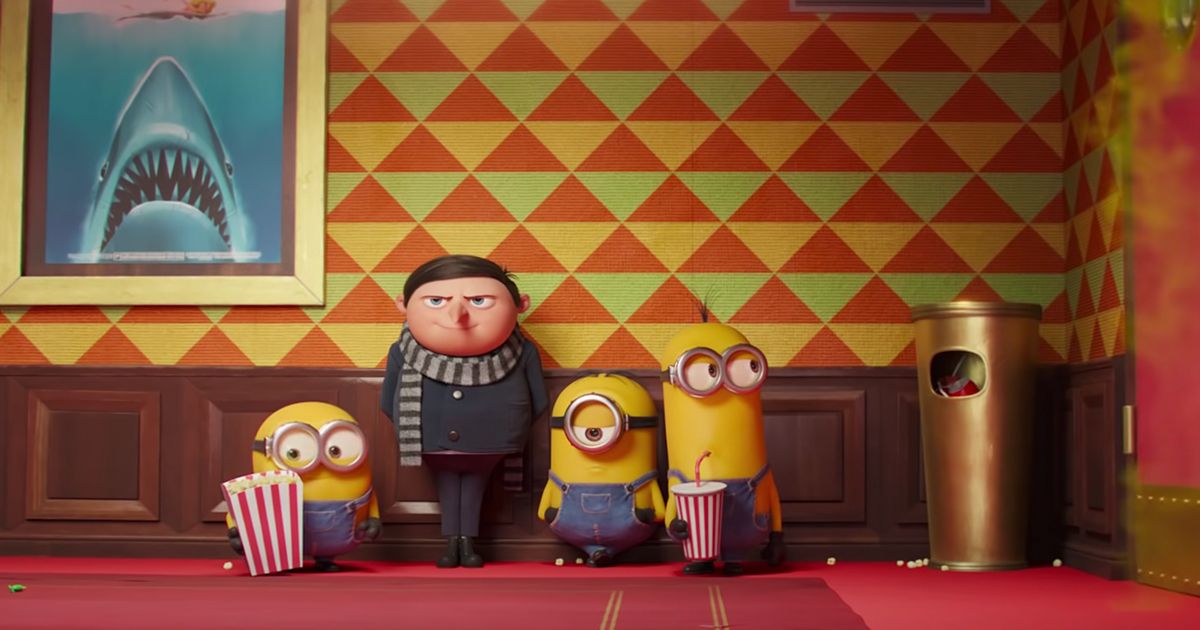 The Minions are invading the theater in more ways than one. Like the next episode of Illumination's Despicable Me franchise, Minions: The Rise of Gru, pushes into its opening weekend, its young adult fans are celebrating in a unique way. Theaters across the country find themselves selling tickets to moviegoers in full costume!
The "Dress like Gru to watch the Minions movie" trend seems to be a shift from the "tickets for ___ please" meme that's been trending for a few months. Minions fans take it to a new level, dressing up as the budding villain himself to see the movie. Not only that, but they also promote Illumination screens and thank other customers for seeing the film. The trend has both baffled and thrilled theater workers, fellow moviegoers, and even parents taking their kids!
Unfortunately, like many fun stunts, some participants may take the joke a bit too far. Some bands get a little too loud with the cheers and excitement, with theaters forced to evict superfans without refunds. One particular group on TikTok involved a participant throwing a banana and hitting the movie screen, which is an easy way to damage a very expensive property.
Related: Minions: Rise of Gru Set to Beat Lightyear Haul's Opening Weekend
First the cinema, then… THE MOON!
Minions: The Rise of Gru was another animated feature that was supposed to be released in 2020, but was pushed back due to the pandemic. The film premiered yesterday in the United States and is already conquering the world by storm. According Variety, the film walked away with $10.75 million in Thursday previews. Due to that shocking opening night, Universal and Illumination are predicting the film will gross a whopping $129.2 million opening over the four-day holiday weekend. It would be quite the success story of an animated film, it would more than double Pixar's summer blockbuster, Light yearwhich grossed $51 million in its opening weekend.
You're probably wondering how it happened? How could a Minions sequel be screened with more than a Pixar movie with more than double the budget? Unfortunately, there really isn't a simple answer. There are plenty of reasons why Lightyear underperformed, poor marketing, a confusing tie-in, a script that left fans unhappy.
Meanwhile, with the Minions? This is perhaps the lower bar when it comes to audience expectations. Maybe it's Gen Z who wants to have fun with a sequel to a movie they grew up watching (a ten-year-old who watched Despicable Me in 2010 would be over 20 by now). Maybe a Minions sequel sounds more appealing to parents and kids.
Although the answers will never be completely clear, we can all agree on one thing. We all go to the movies to have fun. Attending the theater is almost a culture in itself, with audience reactions being part of the experience of seeing a film. The cheers when Captain America picks up Thor's hammer, the applause when Immortan Joe meets his death, the screams when Michael Meyers straightens up after being stabbed in the eye with a coat hanger, we all love those moments with others. Minions fans can add it to a list of unforgettable moments in theater history!
https://twitter.com/UniversalPics/status/1542910345982902279?s=20&t=4xdm4obzcdWZ2zjXVjX8qg