Russell Crowe hated the best Gladiator line (and tried to improvise it better)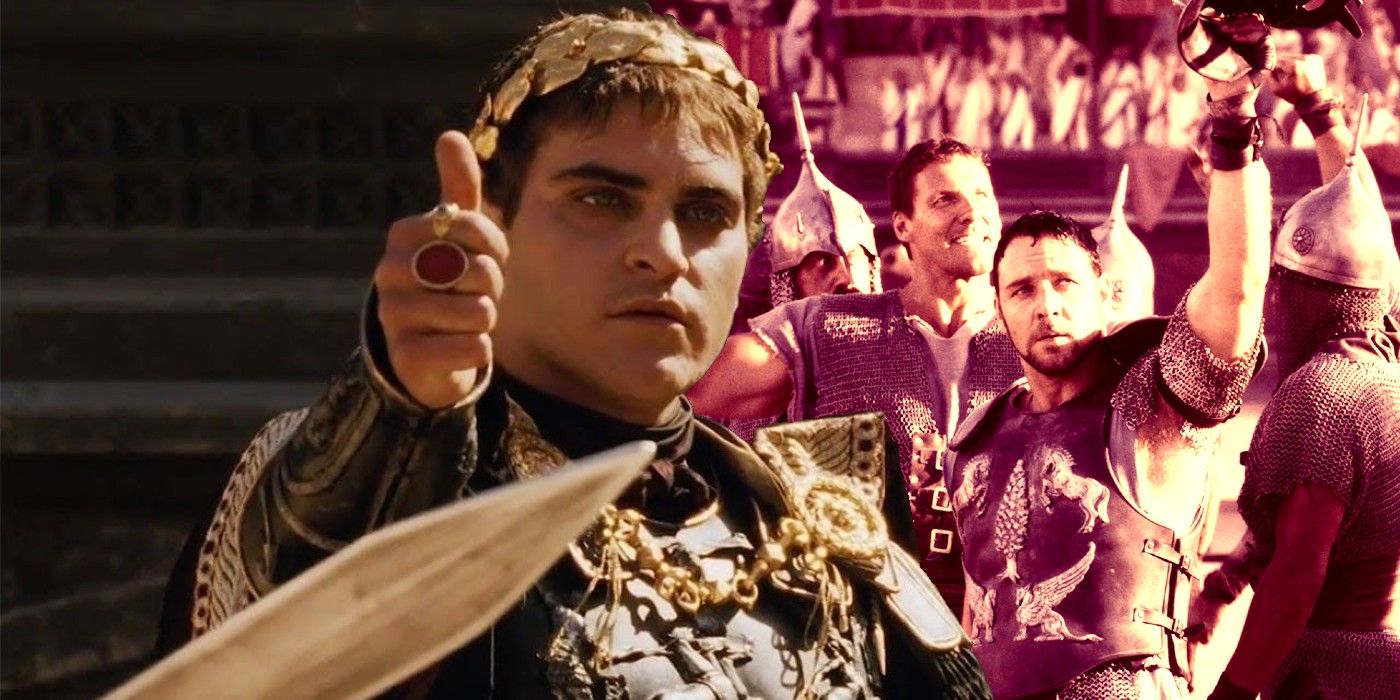 It's hard to imagine Russell Crowe could hate any Gladiator storyline. The actor got into a fight with director Ridley Scott and tried to improvise.
One of the best replicas of Ridley Scott's epic historical drama Gladiator was despised by Russell Crowe, so much so that the Oscar-winning actor tried to improvise his favorite instead. The scenario of Gladiator was directed by three successful screenwriters who all wrote more historic epics. David Franzoni wrote the 2004 king arthur, John Logan wrote the biopic The aviator, and British playwright William Nicholson co-wrote Elizabeth: the golden age. Gladiator was also nominated for an Oscar for Best Original Screenplay at the 73rd Academy Awards. The film won the Best Picture award that year, although the screenplay was beaten by Almost known. Considering that Ridley Scott had a team of heavyweight writers behind the film, it's hard to imagine Russell Crowe would find anything to have a problem with.
In Gladiator, Russell Crowe plays Maximus, a Roman general returning from a victorious battle against the Germanic tribes. When Maximus returns, Emperor Marcus Aurelius (Richard Harris) admits that his son Commodus (Joaquin Phoenix) is too volatile for the throne and therefore wants Maximus to succeed him. Commodus finds out about this and murders his father, then tries to win Maximus' loyalty. The general refuses and fled. His family is killed by Commodus and after a long journey through the desert, Maximus is captured by slavers. Slavers sell him to a gladiator trainer and he learns to fight alongside Juba (Djimon Hounsou) and Hagen (Ralf Möller). Maximus returns to Rome when Commodus organizes 150 days of games in the Colosseum. After his glorious gladiatorial debut, Commodus asks Maximus to remove his helmet and reveal his true identity.
Related: Gladiator: What The German Says At The Beginning Of The Movie
The line that rubbed Russell Crowe the wrong way in Ridley Scott's iconic film was "And I will have my revenge, in this life or in the next". An article published in The Guardian reveals that the actor has repeatedly tried to improvise a "better" line to use. However, all of his improvisations were cut and he was convinced to revert to the original script. It's hard to imagine that anyone could come up with anything better than what has been written. The line comes at such a critical moment in the film: when Maximus reveals his true identity and intentions to Commodus. The line sums up the character's main purpose perfectly, while also touching on some of the themes of death and perseverance explored in the film. While it is not known what Russell Crowe preferred to say to Maximus, he said this about the line: "It was shit. But I'm the greatest actor in the world and I can make even that shit sound good."
While the self-proclaimed "World's Greatest Actor" hasn't been able to improvise a better line, many other actors have invented lines that endure. Roy Scheider invented "We're going to need a bigger boat" in Jaws. The iconic back-and-forth between Princess Leia and Han Solo led to the "I love you I know" exchange, which was improvised by Harrison Ford in Star wars. Of course, no one can forget the most famous movie line of all time, "I'm looking at you, kid" from Casablanca. Humphrey Bogart improvised the line since the script was not finished. In all of these cases, the actor's improvised lines added something much needed to the original script. Unfortunately for Russell Crowe, Gladiator did not need any revision.
Despite the controversial character of the Australian actor, it is clear that the man is bursting with talent. Russell Crowe performs many of his stunts, even at his age. Over the years, the tough guy has accumulated 70 acting credits under his belt and continues to work in the industry to this day. Gladiator This is possibly one of the best movies he has ever made, as it shows not only his incredible athletic abilities, but also his wide range of actors.
Next: How Maximus Returns In Gladiator 2: Every Theory (& What Scott Revealed)
Harry Potter actor Fred broke director's rib while fighting during goblet of fire
About the Author