"Sold out": the former artistic director of STC speaks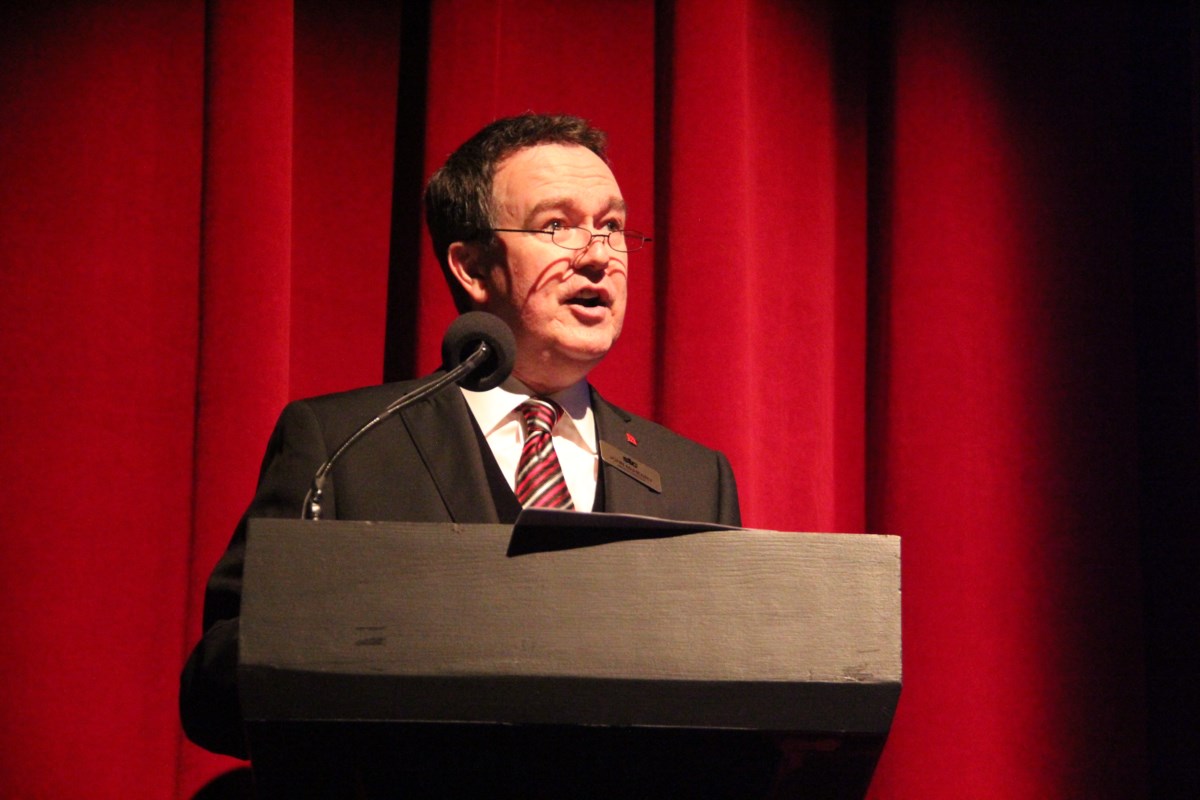 The Sudbury Theater Center chose not to renew John McHenry's contract last winter; YES Theater's Alessandro Costantini takes on the role of interim artistic director
The former artistic director of the Sudbury Theater Center speaks after confirmation this week of what the STC board is calling a 'new partnership' with YES Theatre, and what worried theater supporters are calling a merger or take over.
"STC's board basically sold out YES Theater," said John McHenry. "YES Theater has money. STC has a building. And, you know, they're going to see if they can make it work.
YES Theater staff members are now also assigned to STC, the theater center's board announced this week, and the organizations will schedule a 2022-23 season "that fulfills both STC's and YES's mandates. Theatre," the May 12 statement from STC's board of directors reads.
In early March, McHenry suddenly left the theater company, cryptically announcing his departure by tweeting just three words: "Leave stage left.
McHenry said STC's board of directors met on February 23 and he was later informed via a Zoom call that he would not be renewing his contract, which was up in June.
Knowing that STC's final show of the season, a one-man show titled "This One," had been canceled, McHenry said he decided to wrap up work with the theater company in March, shortly after production began on " Ever Falling Flight.
If there's nothing for me to do, why should I keep coming in? " he said. I'm not just going to come in and make tea and sit around all day and drink tea.
Around the time he was fired, Scott Denniston, who is also the general manager of YES Theater, started working for STC as general manager.
McHenry said he thinks there's "no clear plan for some kind of takeover merger transition, whatever you want to call it" between Denniston and the board. from STC.
With an overlap between the staff and board members of STC and YES Theatre, McHenry said "there's no one there looking out for the best interests of STC".
Other examples of this overlap include YES Theater founder Alessandro Costantini, revealed this week as STC's new interim artistic director, as well as Patricia Meehan, who is both a YES Theater board member and Co-Chair of the STC Board of Directors.
Several STC supporters have called this situation a conflict of interest.
McHenry said his concern was for the future of professional theater in Greater Sudbury, which is not what YES Theater does – it's an amateur theater company known to run a summer theater festival.
"There is a place for YES Theater, and they are doing good things," he said, adding that YES Theater gets funding on its own merits, but it comes from different sources than grants received by STC. .
McHenry was with STC for four years. He was hired by the theater company to try to turn it around when it was having financial difficulties.
"My first season, we had 600 more subscribers, which was considerably higher than the previous season, because subscribers liked what I was programming," he said.
"So we are off to a good start. And then other circumstances, you know, financial circumstances, the second season was a season of individual shows.
In March 2020, of course, the COVID-19 pandemic hit, canceling live performances. The entire 2020-21 season was ultimately scuttled, but STC returned for its 2021-22 season last fall.
McHenry said people were still unsure whether to hit theaters this season due to the pandemic, and STC was already talking about canceling its final production of the season for this reason even before it left.
For now, McHenry is staying in Sudbury, sending resumes and hoping someone bites and says, "Oh my God, we can't go on without John.
Sudbury.com was also able to speak to Alessandro Costantini – now both Acting Artistic Director of STC and Artistic Director and Managing Director of YES Theater – following the STC Board of Directors issuing a press release this week on the above changes.
He said YES Theater was approached by STC several months ago to look into how the two organizations could work together.
Essentially what we're looking at is for season 22-23, getting together and working on presenting the season with programming that's going to be very exciting, create a lot more opportunities for professional artists here in the community and will deliver something really compelling and wonderful for audiences in our community," Costantini said.
"You know, in many ways it's going to be an incredibly bountiful time."
Regarding some of the comments that have been made recently about the new relationship between STC and YES Theatre, Costantini said those who have spoken out are expressing "legitimate and real concerns."
When asked if he found some of these comments hurtful, Costantini replied that he was "trying not to take it personally".
He said interested people are welcome to attend the May 25 press conference where YES Theater and STC will release more information. They will be able to ask questions at that time, Costantini said.
"You know, I want to move forward in a spirit of collaboration and, and I know we'll get there because, you know, really the truth says it all, right?" he said. "We will connect, we will talk with an open heart and we will look to the future."
Regarding the alleged conflict of interest stemming from the overlap between the boards and staff of the two organizations, Costantini said:
"So in terms of conflicts of interest, everything was done above board. Anyone with a perceived conflict has withdrawn from conversations and deliberations regarding these issues.
Several concerned STC supporters pointed out that the theater company is a member of
the Professional Association of Canadian Theaters (PACT), while YES Theater is not. PACT requires members to meet professional standards, security, and certain levels of compensation.
Costantini said PACT or other organizations such as the Canadian Actors' Equity Association have "no jurisdiction over what constitutes professional practice, safe working conditions, fair pay scales.
"These are things that YES Theater values ​​and delivers, and have grown over the years."
On whether professional members of PACT and the actors' equity association (representing live performance artists in Canada) will be employed, Costantini said "it's going to be a bit of a merger," but said that these jobs would actually be increased.
Costantini spoke about the evolution of YES Theater, which he started as a teenager in 2010.
"When I was 16 working in a parking lot, there were very different things that were important to me," he said.
"Now that I am an adult person, these things are all very important to me. The safety and sustainability of artists in our community is my life's work.
Katherine Smith, the Sudbury Theater Centre's former acting director of operations, said the information revealed by STC's board this week was pretty much what she thought.
But Smith said "it doesn't really answer the questions the community is asking about transparency and about conflict of interest and who is actually standing up for STC."
As for the promise of more information at the May 25 press conference, Smith said she "hopes" people get "real answers" at the event, but adds that she's "sure that there is a party line".
She said she wasn't sure whether to attend the press conference herself, adding that it was an emotional issue for her.
"I'd be surprised if transparency is actually emphasized," Smith said. "I don't know what they could say that could make what it looks like not what it is, do you?"