Superman dons his gladiator costume in gloriously violent action comic preview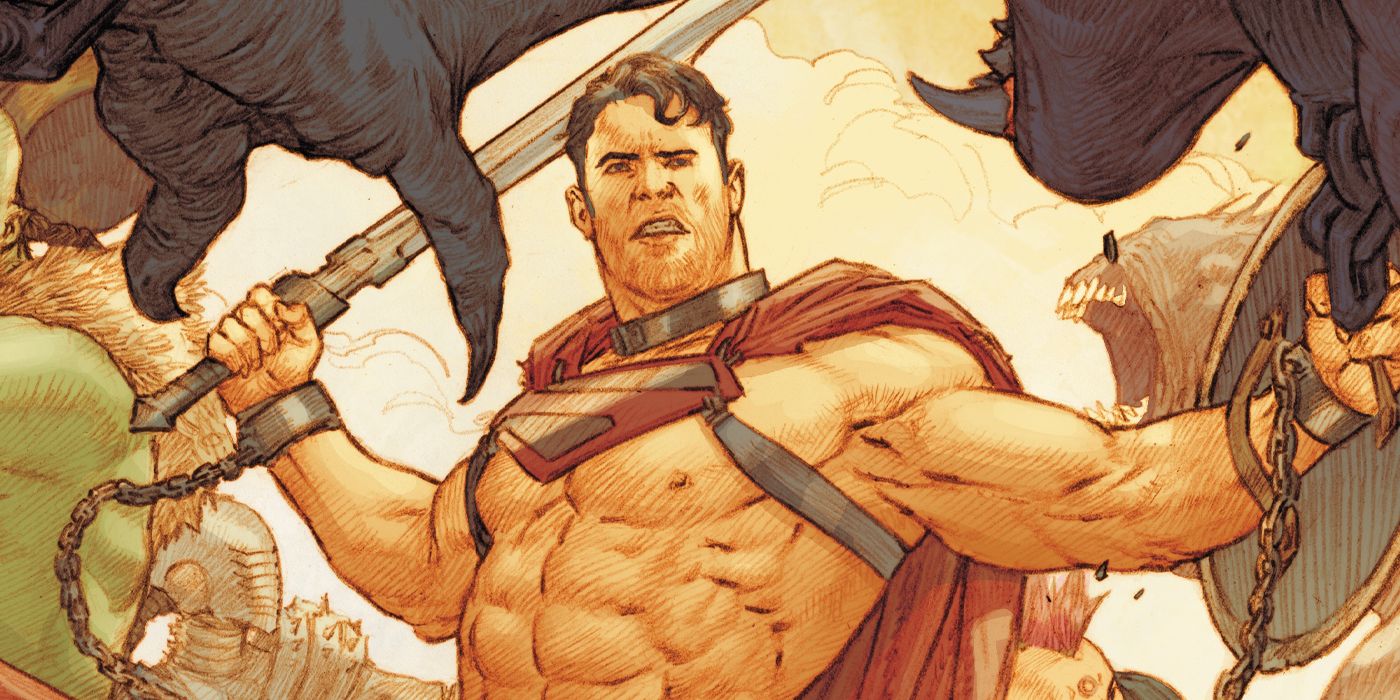 The Man of Steel swings his sword, strikes his shield, and carries his chest through the bloody depths of Mongul's Warworld arena in Action Comics #1040.
The Man of Steel shatters bones, smashes steel and fights for freedom in a gladiator outfit in the latest issue of action comicsslated for release at the end of February.
Preview pages for action comics #1040 shared on Reddit by series writer Phillip Kennedy Johnson shows Superman battling beasts in Mongul's Warworld arena, wielding a sword, shield, and looking like the barbarian from a pulp fantasy novel. As the onlookers cheer, Superman eventually finds himself in close combat with Mongul himself.
RELATED: Superman's Warworld Reveal Changes Everything – Here's Why
ACTION COMIC #1040
Written by PHILLIP KENNEDY JOHNSON and SHAWN ALDRIDGE
Illustrated by RICCARDO FEDERICI and ADRIANA MELO
book cover by DANIEL SAMPERE
Variant cover by JULIAN TOTINO TEDESCO
Black History Month Variant by ALEXIS FRANKLIN
$4.99 | 40 pages | $5.99 Variant (card stock)
ON SALE 02/22/22
Superman has become a force to be reckoned with in the Warworld arena, and Mongul questions his decision to keep his enemies alive. As Superman's new Phaelosian ally, Kryl-Ux, teaches him new ways to fight without powers, he begins to win over Warzoons to his cause…but someone in his inner circle sees his allegiances tested. Meanwhile, the elusive Midnighter uses his talents to track down missing members of the Authority.
Superman's battle against the Galactic Tyrant is part of Johnson's ongoing "Warworld Rising" story arc, which features the Man of Steel leaving Earth in the care of his son, Jon Kent, and teaming up to the Authority to free the enslaved peoples of the Mongul Kingdom. So far, Superman's fight for freedom has been a tough one, with Clark suffering from weakened powers and losing in a fight against Mongul which saw him stabbed by a Kryptonite spear. Superman also learned of the horrific genocide in which Warworld's elite warriors, the Warzoons, participated for generations as they repeatedly stripped planets of their resources and threw subjugated peoples into their arena of battle.
The grizzled gladiator outfit that Superman wears action comics #1040 also featured in a variant cover by Riccardo Federici for the previous issue in the series, and was present in Future State Superman: Worlds of War. A one-shot released in 2020, Future State Superman: Worlds of War presented a possible alternate future for Superman, revealing that he had been fighting in the Mongul Arena for years. Despite this gloom, Superman had become an icon of hope for the thousands of enslaved combatants, inspiring them in a way similar to how he had inspired both other superheroes and ordinary citizens on Earth. .
RELATED: Superman's Most Crushing Defeat Is… A Good Thing?
Johnson hinted that despite the story's dark themes, "Warworld Rising's" true ending will remain hopeful, assuring speculating fans on Twitter last November that the saga was far from "a sleazy, sleazy business plan." stolen to 'replace' Clark as Superman." "To those fans: I don't know how [sic] your worries without spoiling what's to come, and I can't do that," Johnson wrote at the time. "But I love Clark Kent as much as you do. Keep reading, and I promise you we won't betray you. Superman is forever."
action comics #1040 is written by Johnson and Shawn Aldridge. The issue features illustrations by Riccardo Federici and Adriana Melo and covers by Daniel Sampere, Julian Totino Tedesco and Alexis Franklin. It comes out February 22 from DC.
KEEP READING: Grant Morrison's Action Comics Run May Have Referenced an Adult Superman Movie
Source: Reddit
The X-Men Forgave An Irredeemable Marvel Villain – And It Was A Huge Mistake
About the Author