When did Batman first use his costume to strike fear into criminals?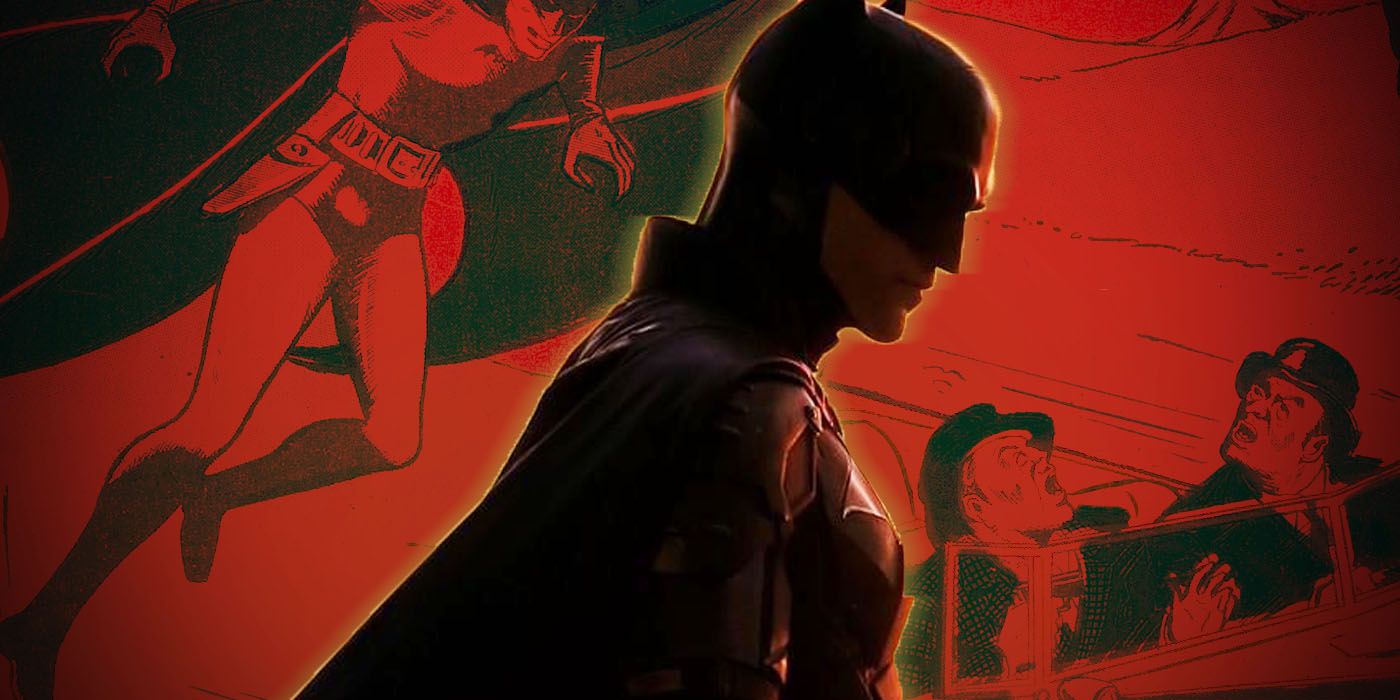 Today find out when Batman first used his suit to actively strike fear into some superstitious criminals.
In "When We First Met," we highlight the various characters, phrases, objects, or events that eventually became notable parts of comic lore, like when someone first said "Avengers Assemble!" or the first appearance of Batman's giant dime or the first appearance of Alfred Pennyworth or the first time Spider-Man's face was shown half-Spidey/half-Peter. Stuff like that.
As we all know, the origin of Batman (by Bill Finger, Bob Kane and Sheldon Moldoff) was first revealed in Detective comics #33 (I will always share Batman Version #1, because they're changing the first panel so it's not a teaser for the main story of Detective comics #33. It still kinda weird to me that Batman's first origin has a big panel for an unrelated story at the top of the page)…
And being part of that iconic origin (I think it's the best superhero origin in comic book history), Bruce Wayne decides what to do as a crime fighter when he notes, "Criminals are superstitious cowards, so my disguise must be able to strike terror into their hearts. I must be a creature of the night, black, terrible, a… a…" and then a bat flies into his office (I like better the versions where the bat breaks the window)…
Well, that's all well and good, but when did Batman actually USE the fact that he was dressed as a bat to actually SCARE these supposedly cowardly and superstitious criminals? That's what reader Alex C. wanted to know when he wrote to ask, "I work on the Batman newspaper comic strips, and while reading the March 2, 1945 strip, I was hit with a 'When we met for the first time. ' question. In the third panel of this strip, a fence is surprised by Batman's shadow. It made me wonder when was this motif first used to show that criminals are superstitious and cowardly?"
We'll take a look!
RELATED: When Did Penguin First Become a Mafia Boss?
HOW DID PEOPLE ORIGINALLY REACT TO THE BATMAN COSTUME?
Batman Definitely Scares Some Criminals When He First Appears In Detective comics #27 (by Bill Finger and Bob Kane), but it seems pretty obvious that it's just him, you know, being there out of nowhere is what scared them and not his purple-gloved costume…
"GAH! Why are your gloves purple?!? You're scaring my cowardly, superstitious brain, man!!!"
On his second appearance, we picked up the story mid-fight and there was no way to scare anyone off.
Batman's fight with Doctor Death in Detective comics #29 (the first in a series of Batman stories written by Gardner Fox instead of Bill Finger) was notable for the first time that Batman used his suit to cast a bat's shadow over a villain behind him …
But while Doctor Death was certainly surprised, it doesn't seem like he's AFRAID, you know? I mean, it's Doctor fucking Death! So I don't think that's the answer. There's no way to scare anyone off when Doctor Death makes a second appearance in the next issue.
The following issues caused Batman to fight a scary VAMPIRE, so trust me when I say the Vampire wasn't afraid of Batman's costume.
Besides the origin of Batman, Detective comics #33 also had crazed madmen to death from a goddamn airship. He wasn't afraid of Batman's shadow. Fox's final issue before Finger returned was some surreal nonsense that certainly didn't involve Batman scaring anyone. I think Batman MIGHT have taken LSD in this story.
Batman definitely scared off some bad guys in Finger's first issue, but it seems like it's more that they didn't know he was in the room than his costume, right?
I mean, when my wife doesn't know I'm behind here, I can scare her and I don't look like a bat… I don't think so, at least.
RELATED: When Did The Riddler First Become Mortal In The Comics?
WHEN DID THE BATMAN COSTUME FIRST CLEARLY SCARE A CRIMINAL?
The next issue saw the introduction of Hugo Strange, and little opportunity to scare anyone off. The next issue sees Batman literally fall into a whole dramatic scene after getting lost in the Batmobile. He surprises the bad guys, but more in a "Why is he here?" somehow…
After saving the guy from the bad guys, he shocks Batman by knocking him out! Later, Batman finds him. You can see that Kane is really into the shadow effect, but I don't think it really scares anyone and the guy is more scared because Batman has tracked him down…
We know right away that Dick Grayson isn't a criminal, because he wasn't afraid of Batman at all when he snuck up on him in Detective comics #38…
You don't need me to tell you nobody in Batman #1 (at this time the art is of Kane with Jerry Robinson and George Roussos) was afraid of Batman, as the villains of all four stories are Joker twice, Hugo Strange and Catwoman once each, and none of these three villains is one be afraid of batman costume.
Detective comics #39 was a pretty racist story about Asians and Batman didn't scare anyone. The following issue introduced the future Clayface, Basil Karlo, and no one was scared off by the Dynamic Duo in this story. Nothing was happening in Detective comics #41 or Batman #2.
World Comics Fair #1 had an interesting bit where Batman's BatPLANE scared off criminals…
It's pretty close, but it's not Batman's costume, so it doesn't count.
Nothing to do in Detective comics #42, but finally, in Detective comics #43, we see the suit working to freak out some criminals into thinking they're being stalked by a giant bat, because they're stupid.
And cowardly and superstitious, of course.
There you go, Alex! Thanks for the suggestion! If anyone else wants to learn about an interesting comic first, message me at [email protected]!
KEEP READING: When Was Someone First "Unworthy" To Lift Thor's Hammer?
Lobo has his own Alien Justice League and that could include…Batman?!
About the Author